A Level Chemistry 2017 Paper 1 Question 21 Solution - Exclusive
In this exclusive video we want to discuss the suggested solution for A Levels Chemistry (H2 Chemistry) 2017 Paper 1 Question 21.
Let's take a look at this question: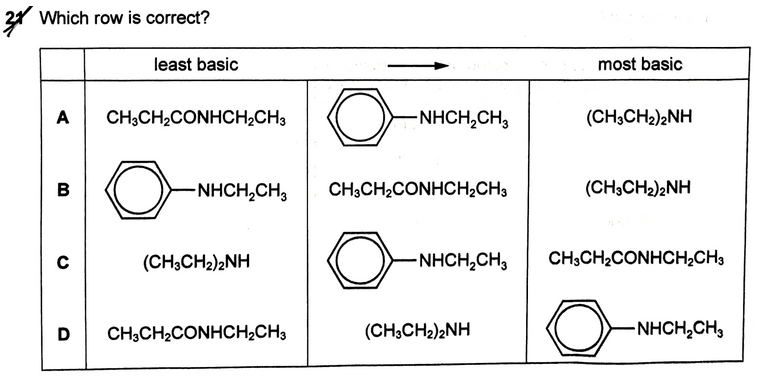 The topic tested in this question is on basicity of Nitrogen compounds in Organic Chemistry.
The basicity of nitrogen compounds is directly related to lone pair availability on nitrogen. The more available the lone pair, the stronger the base. For a more detailed comparison you can check out my video on Basicity of Nitrogen Compounds.
There are only 3 compounds in this question to consider so let's discuss their lone pair availability in detail.
1. Amine Basicity
Electron donating R groups will increase lone pair availability which makes amines better lone pair donors. This makes amines more basic than ammonia.
2. Phenylamine Basicity
Lone pair on nitrogen will be delocalised into the benzene ring which makes it less available for donation. This makes phenylamine less basic than ammonia which in turn makes it less basic than amines.
3. Amide Basicity
Lone pair on nitrogen is delocalised extensively into the acyl carbon. The lone pair is not used for donation hence amides are neutral and the least basic amongst all nitrogen compounds.

Finally we can rank the 3 compounds in order of increasing basicity and compare the options to determine that the answer to this question is A.
Check out this video for the full solution and detailed explanation!
Topic: Basicity of Nitrogen Compounds, Organic Chemistry, A Level Chemistry, Singapore
Found this A Level Chemistry video useful?
Please LIKE this video and SHARE it with your friends!
You might also be interested in the suggested solution for Paper 1 Question 20.
Check out other A Level Chemistry Video Lessons here!
Looking for H2 Chemistry Tuition? Do consider taking up my classes at Bishan or online classes!