A Level Chemistry 2017 Paper 1 Question 5 Solution
In this video we want to discuss 2017 A Level H2 Chemistry Paper 1 Question 5.
Let's take a look at the question.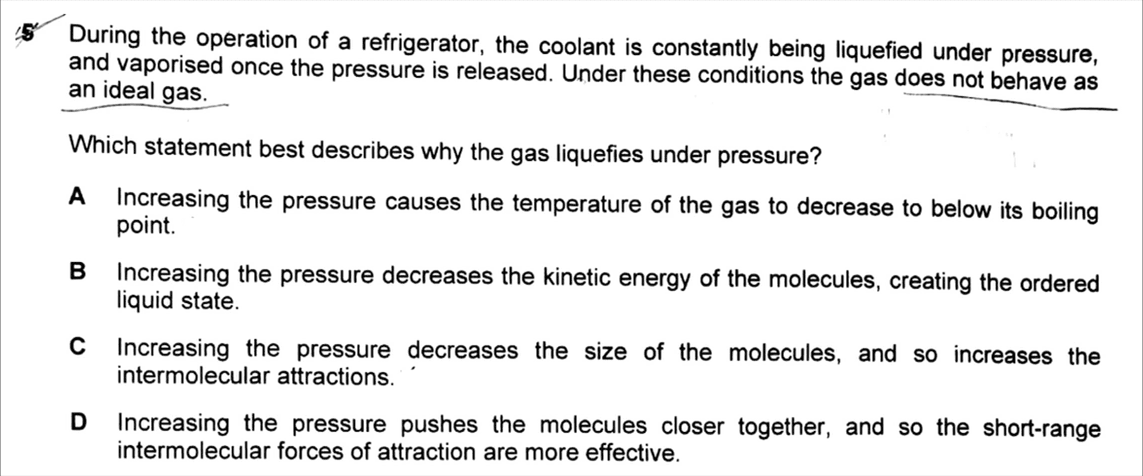 Topic tested is on Gaseous State.
For this question we want to use the Ideal Gas Equation to explain why a gas will liquefy under high pressure.
The most important formula in Gasesous State is the Ideal Gas Equation PV = nRT where:
P is pressure in Pa,
V is volume in m3,
n is moles of gas,
R is gas constant 8.31 J K-1 mol-1, and
T is temperature in K.
Using this equation we can predict changes in state of a gas when another state changes.
For example:
1. At constant temperature, pressure will increase when volume decrease (Boyle's Law)
2. At constant pressure, volume will increase when temperature increase (Charles' Law).
Option A
When pressure increase the temperature should also increase based on the Ideal Gas Equation so option A is not true.
Option B
When pressure increase, temperature increases which means the kinetic energy of molecules should also increase since KE is directly related to temperature.
Therefore option B is not true.
Option C

Increasing pressure will bring the molecules closer together but cannot change the size of the molecules.
Therefore option C is not true.
Option D
Increasing pressure will bring the molecules closer together so intermolecular forces get more effective and stronger.
This statement makes the most sense hence option D is our best answer.
Check out this video for the question and the suggested solution!
Topic: Gaseous State, Physical Chemistry, A Level Chemistry, Singapore
Found this A Level Chemistry video useful?
Please LIKE this video and SHARE it with your friends!
You might also be interested in this video on A Level Chemistry 2017 Paper 1 Question 4 Solution.
Check out other A Level Chemistry Video Lessons here!
Looking for H2 Chemistry Tuition? Do consider taking up my classes at Bishan or online classes!