A Level Chemistry 2017 Paper 1 Question 6 Solution - Exclusive
In this exclusive video we want to discuss the suggested solution for A Levels Chemistry (H2 Chemistry) 2017 Paper 1 Question 6.
Let's take a look at this question.
Topic tested is on Ionic Equilibria and definitions of Bronsted-Lowry Acid and Base, and Lewis Acid and Base.
Bronsted-Lowry Theory of Acids and Bases is based on proton transfer:
A Bronsted acid is defined as a proton or H+ donor, while
A Bronsted base is a proton or H+ acceptor.
Lewis Theory of Acids and Bases is based on electron pair transfer:
A Lewis acid is an electron pair acceptor, while
A Lewis base is an electron pair donor.
So based on these definitions we can compare the options and see which of these species can function as both a Lewis base and Bronsted-Lowry acid.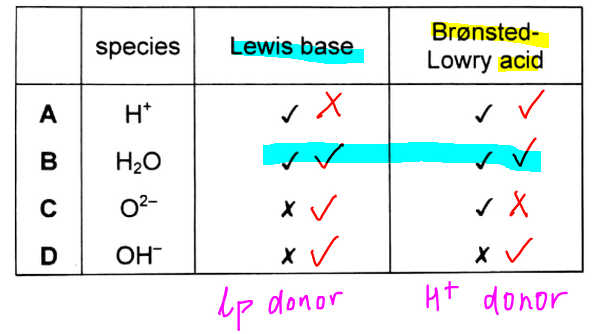 Therefore B is the best answer as H2O can donate lone pair to form H3O+ (Lewis base) and it also also donate H+ to form OH- (Bronsted acid).
Check out this video for the question and the suggested solution!
Topic: Ionic Equilibria, Physical Chemistry, A Level Chemistry, Singapore
Found this A Level Chemistry video useful?
Please LIKE this video and SHARE it with your friends!
You might also be interested in this video on A Level Chemistry 2017 Paper 1 Question 5 Solution.
Check out other A Level Chemistry Video Lessons here!
Looking for H2 Chemistry Tuition? Do consider taking up my classes at Bishan or online classes!