Drawing Half Cell and Electrochemical Cell
An electrochemical cell is made up of 2 half cells linked together via a salt bridge and the 2 electrodes are connected via an external wire to generate flow of electrons from the anode to the cathode.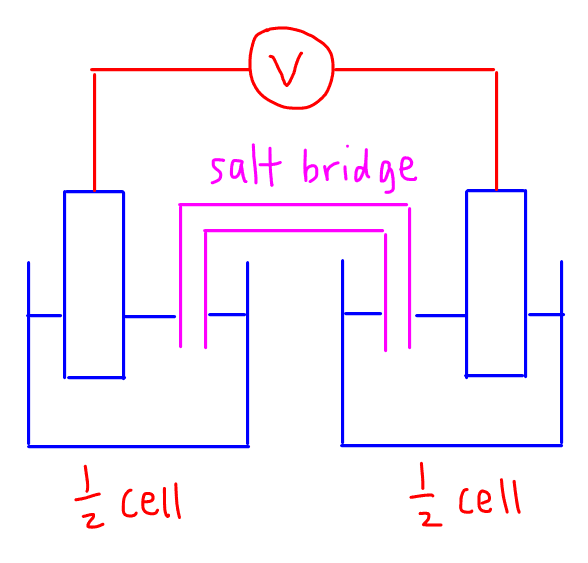 It is also known as a voltaic cell, galvanic cell or battery. One example of an electrochemical cell is the hydrogen oxygen fuel cell.
The purpose of the salt bridge is to connect the 2 half cells together so charges can flow between them, but prevents the direct mixing of reactants between the 2 half cells.
We are required to draw a detailed set up of an electrochemical cell under standard conditions, so we need to know how to draw these 3 different types of half-cells depending on the physical states of the species in the reversible electrode.
1. Metal-ion half cell
Example: Zn2+(aq) / Zn(s) half cell
Concentration of aqueous ions at standard conditions has to be 1.0 mol dm-3.
2. Non metal-ion half cell or gas-ion half cell
Example: H+(aq) / H2(g) half cell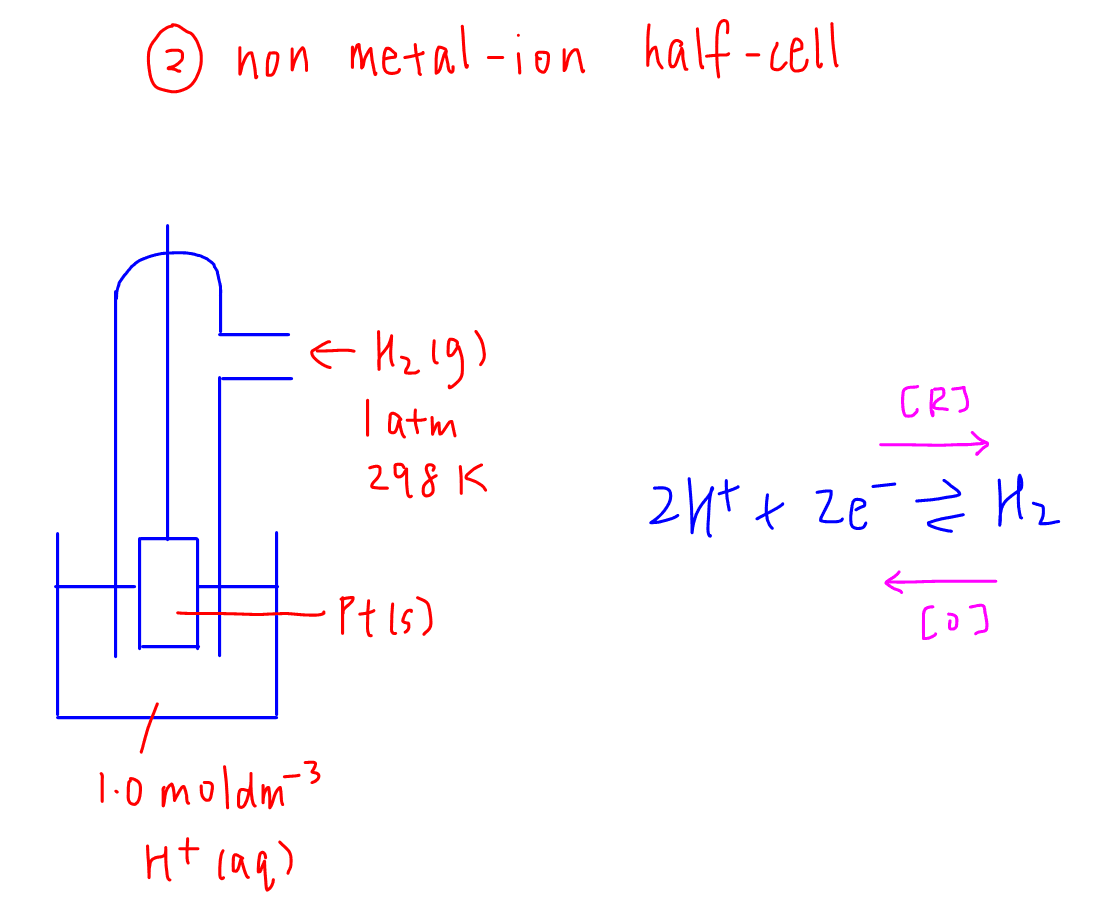 Gas has to be at standard temperature of 298K and standard pressure of 1 atm.
Platinum or graphite is used as an inert electrode which serves as the "electron bank".
For example, H+ gains electrons from the electrode and is reduced to H2, so electrons are withdrawn from the electrode.
Conversely H2 loses electron to the electrode and is oxidised to H+, hence electrons are deposited to the electrode.
Therefore there will not be any half cell established if the electrode is absent.
3. Ion-ion half cell
Example: Fe3+(aq) / Fe2+(aq) half cell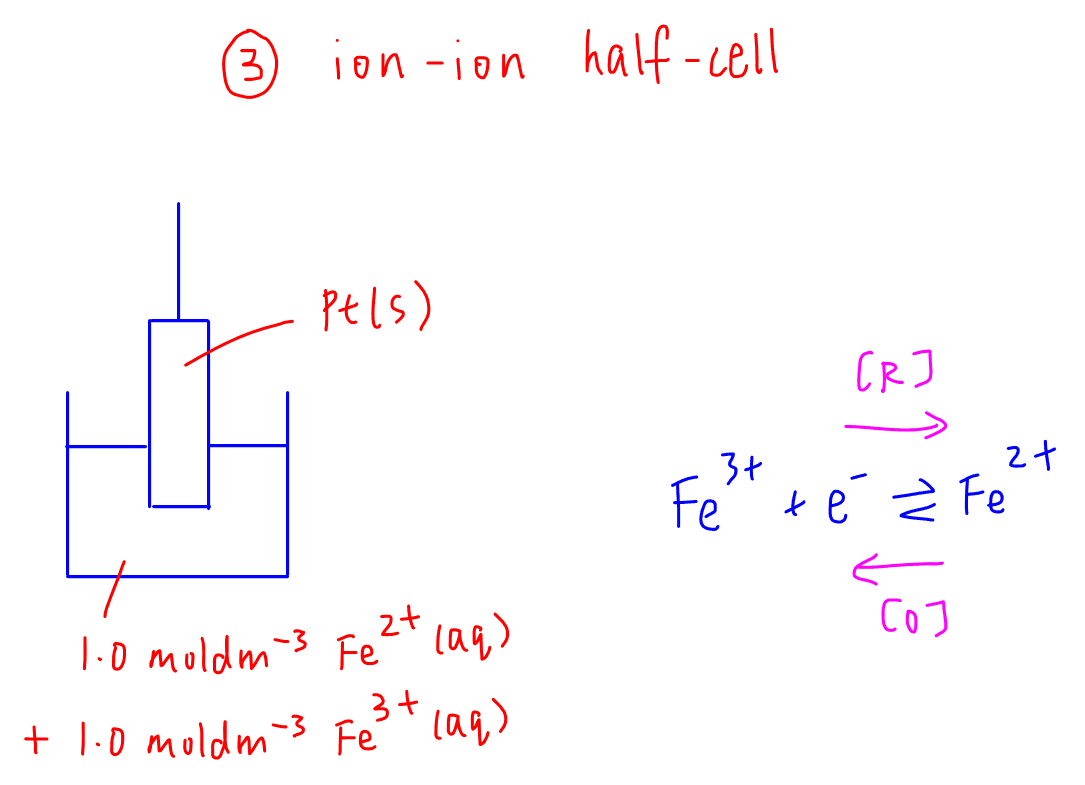 Concentration of Fe3+(aq) and Fe2+(aq) has to be 1.0 mol dm-3 each.
Platinum or graphite is chosen as the inert electrode.
4. Electrochemical Cell Example
We can now combine any 2 half cells together to form an overall electrochemical cell.
Let's use Fe3+ / Fe2+ half cell and H+ / H2 half cell as an example.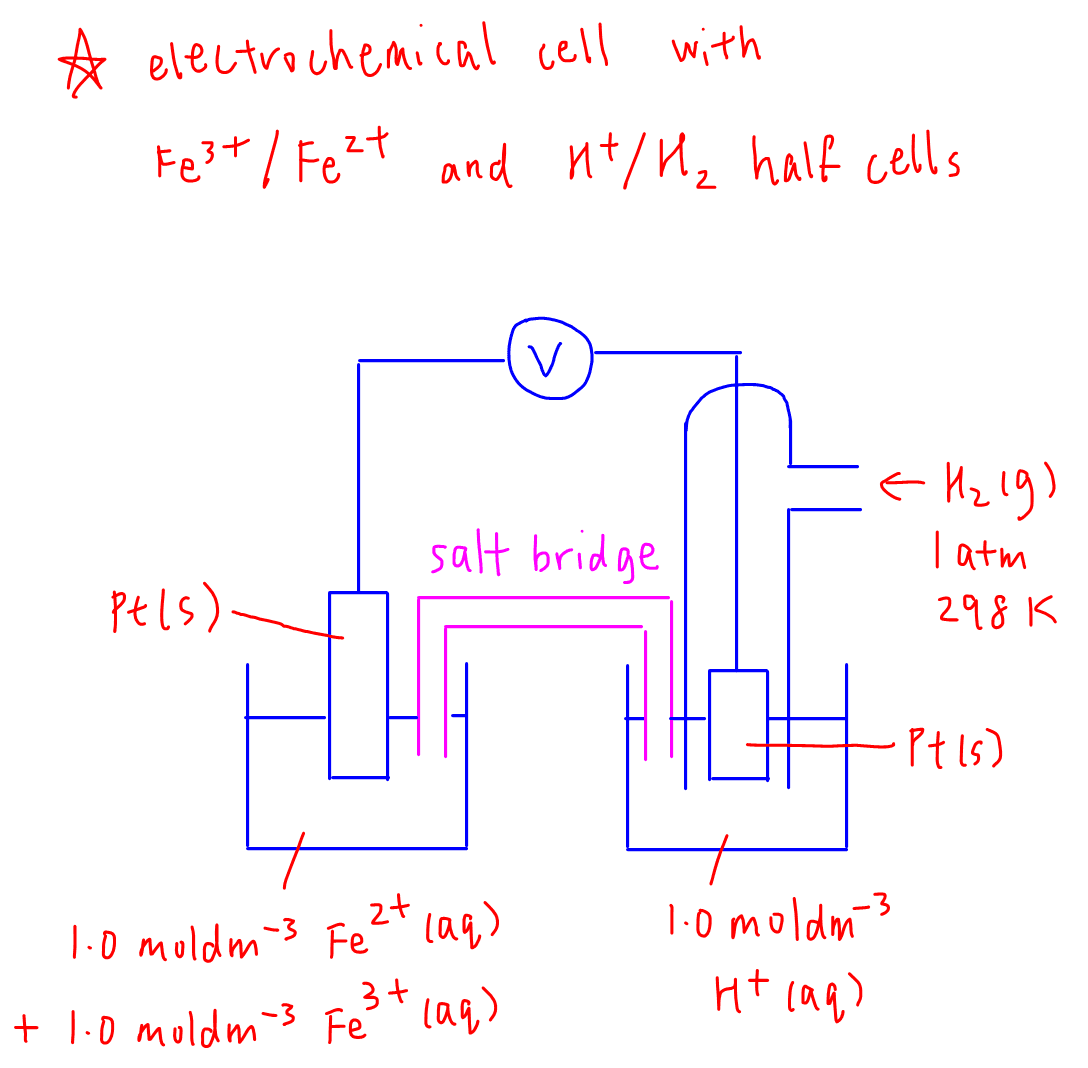 We just need to draw the 2 half cells as discussed previously and use a salt bridge to link the 2 half cells together.
We also draw an external wire connecting the 2 electrodes together through a voltmeter so that the voltage or potential difference of the electrochemical cell can be measured.
For the detailed step-by-step discussion on how to draw the 3 types of half cells and overall electrochemical cell, check out this video!
Topic: Electrochemistry, Physical Chemistry, A Level Chemistry, Singapore
Back to other previous Physical Chemistry Video Lessons.
Found this A Level Chemistry video useful?
Please LIKE this video and SHARE it with your friends!
Join my 2000+ subscribers on my YouTube Channel for new A Level Chemistry video lessons every week.
Check out other A Level Chemistry Video Lessons here!
Need an experienced tutor to make Chemistry simpler for you?
Do consider signing up for my A Level H2 Chemistry Tuition classes at Bishan or online tuition classes!