Factors Affecting Hydrogen Bonds
Simple molecules have weak forces of attraction between them hence their melting and boiling points tend to be much lower as compared to other substances such as metals, ionic compounds and giant molecules.
There are 3 types of intermolecular forces namely:
- instantaneous dipole-induced dipole attraction (or dispersion forces or Van Der Waals forces) between non-polar molecules
- permanent dipole-permanent dipole attraction between polar molecules
- Hydrogen bond between polar molecules that have H-F, H-O or H-N bonds
Let's go through the factors affecting Hydrogen bond in this video, which are extensiveness and polarity.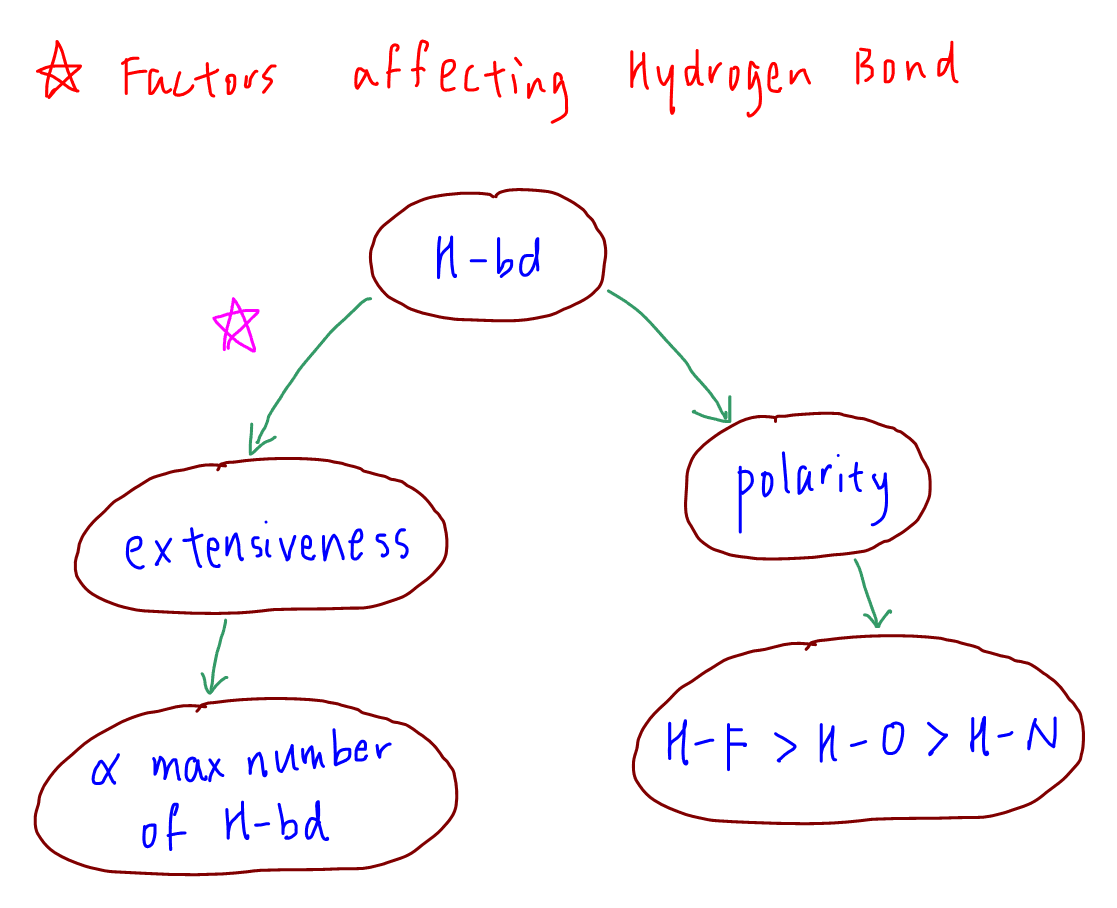 1. Extensiveness
A molecule that can form more hydrogen bonds with more neighboring molecules will have more extensive hydrogen bonds, hence more energy is required to break more hydrogen bonds per molecule, and the melting/boiling point is higher.
Extensiveness is related to the maximum number of hydrogen bonds a molecule can form with its neighbours.
Let's compare the melting points of ethanol, ethanoic acid and ethanedioic acid.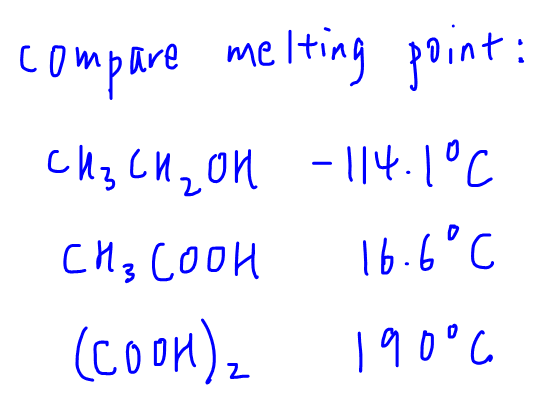 We can determine the maximum number of hydrogen bonds formed for each molecule by drawing out their lewis structures.
We can determine that ethanol can form a maximum of 3 hydrogen bond only, hence hydrogen bond is least extensive, least amount of energy required to overcome and melting point is lowest.
Ethanedioic acid can form a maximum of 10 hydrogen bonds which is the most extensive, greatest amount of energy required to overcome hence it has the highest melting point.
2. Polarity
When extensiveness is the same, then we can compare polarity of H-F, H-O and H-N bond to deduce the strength of hydrogen bonds.
H-F bond is the most polar hence hydrogen bond between HF molecules will be the strongest.
H-N bond is the least polar hence hydrogen bond between molecules that contain H-N bonds will be the weakest.
Let's compare boiling point of ethylamine and ethanol.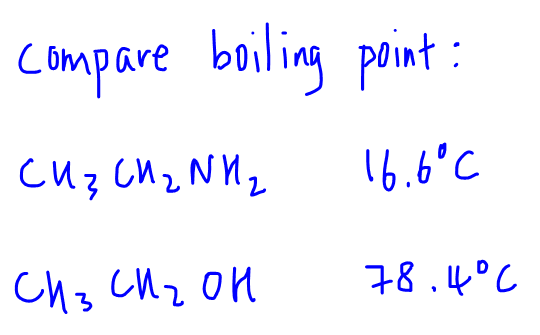 Remember extensiveness is the more important factor so we have to compare extensiveness first.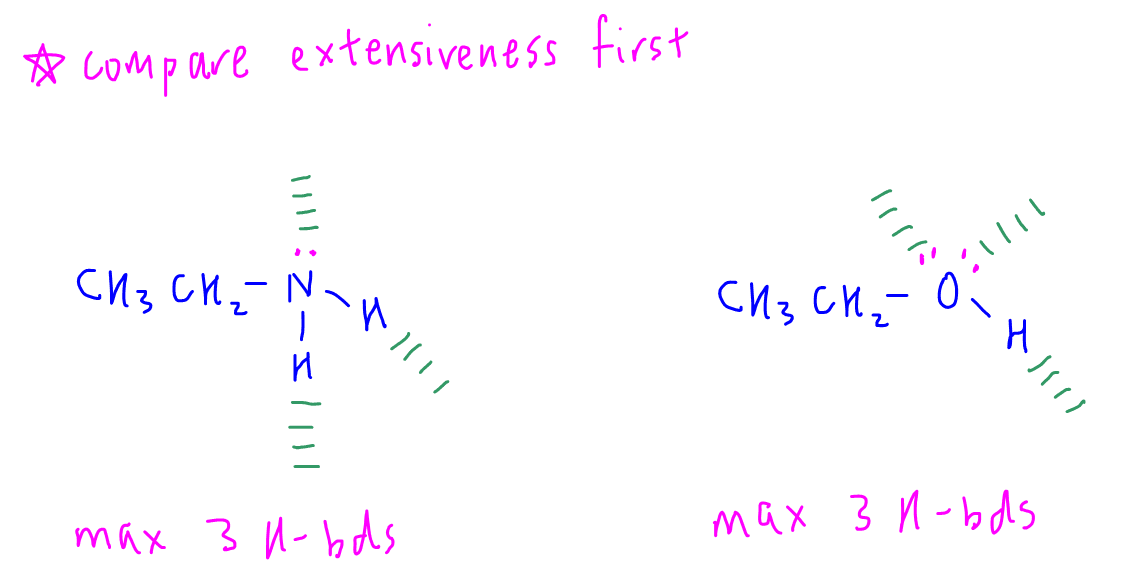 In this case both ethylamine and ethanol can form a maximum of 3 hydrogen bonds each, hence their extensiveness is the same.
Therefore we have to look at polarity to compare their boiling points.
Since H-O bond is more polar than H-N bond, the hydrogen bonds between ethanol molecules will be stronger than hydrogen bonds between ethylamine molecules, hence boiling point of ethanol will be higher.
For the detailed step-by-step discussion on how to apply factors affecting hydrogen bonds, check out this video!
Topic: Intermolecular Forces, Physical Chemistry, A Level Chemistry, Singapore
Back to other previous Physical Chemistry Video Lessons.
Found this A Level Chemistry video useful?
Please LIKE this video and SHARE it with your friends!
Join my 2000+ subscribers on my YouTube Channel for new A Level Chemistry video lessons every week.
Check out other A Level Chemistry Video Lessons here!
Need an experienced tutor to make Chemistry simpler for you?
Do consider signing up for my A Level H2 Chemistry Tuition classes at Bishan or online tuition classes!