Identify Group 2 Metal from Thermal Decomposition of Nitrate
Let's take a look at this week's question.

We want to identify the Group 2 metal using information from the thermal decomposition of its nitrate.

Since the nitrate lost 3.29g of its mass as gases NO2 and O2, the remaining mass of 1.71g will be due to the residual metal oxide, MO.
We can make use of the following formula which states that the mass ratio of a component in a compound is equal to the molar mass ratio of that component in the compound.

This means that the mass ratio of our group 2 metal oxide to its nitrate is equal to the molar mass ratio of group 2 metal oxide to its nitrate.
We can calculate the mass ratio of metal oxide to metal nitrate from experimental data.
Next we can determine the molar mass ratio of the respective Group 2 metal oxides to their nitrates.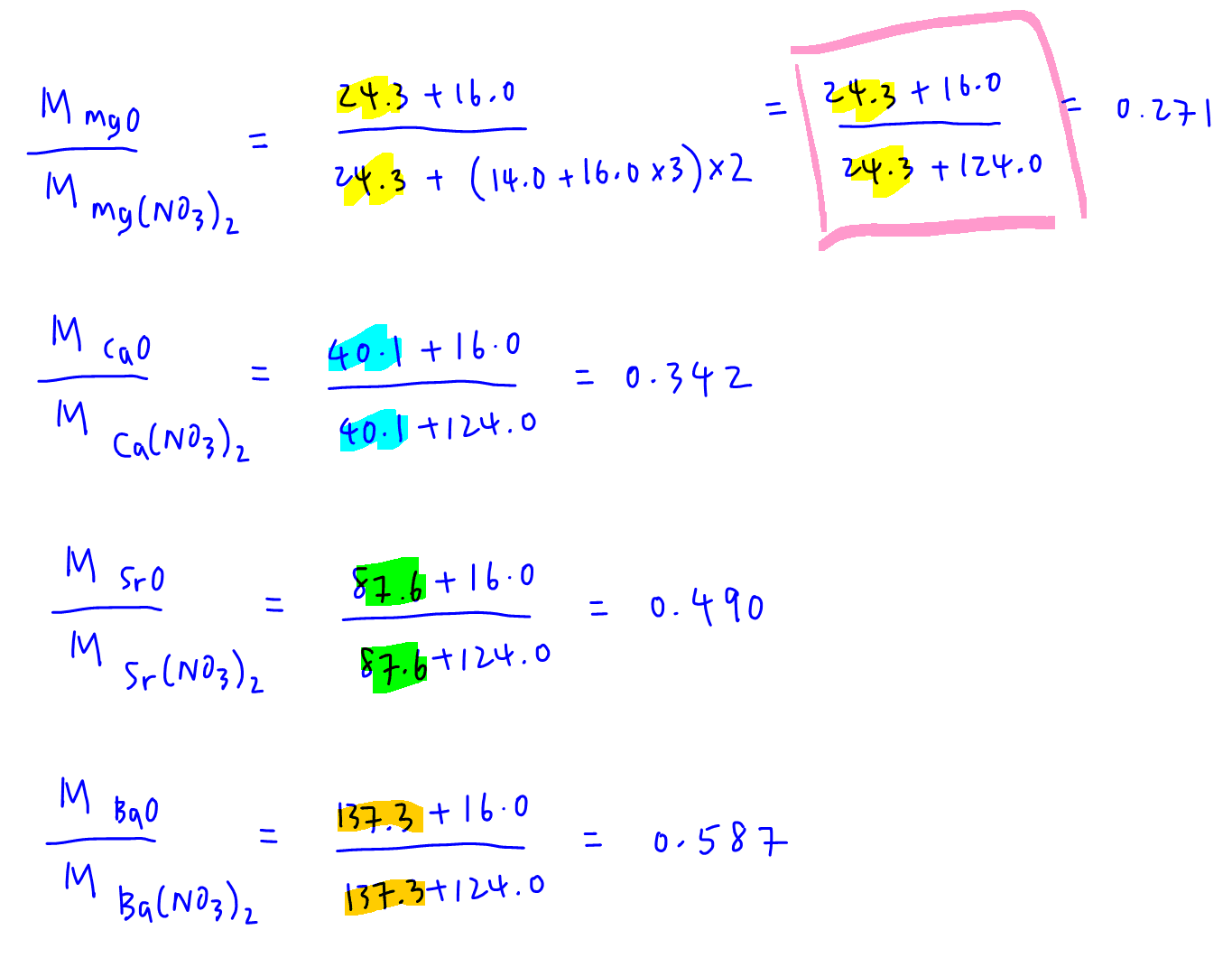 Finally we compare the molar mass ratios calculated and see which one is the same as our mass ratio of 0.342.
Therefore the unknown Group 2 metal is calcium (option B).
Topic: Group 2 Metals, Inorganic Chemistry, A Level Chemistry, Singapore
Back to other previous Inorganic Chemistry Video Lessons.
Found this A Level Chemistry video useful?
Please LIKE this video and SHARE it with your friends!
Join my 10,000+ subscribers on my YouTube Channel for new A Level Chemistry video lessons every week.
Check out other A Level Chemistry Video Lessons here!
Need an experienced tutor to make Chemistry simpler for you?
Do consider signing up for my JC Chemistry Tuition classes at Bishan, weekly LIVE webinars or on-demand video lessons!