JC & IP Chemistry Tuition - JC1 / IP Year 5 Class 2019
Chemistry Guru's A Level H2 Chemistry Tuition for JC1 and IP Year 5 students gives them the strong foundation to ace their Promo exams.
The first year in college for JC1 and IP Year 5 students can be especially daunting.
Lessons are conducted via lecture-and-tutorial style and this new way of learning has its challenges.
It is difficult to pay attention and learn in a lecture where the teacher to student ratio is 1 to a few hundred!
Students can get confused and start failing tests which is a huge blow to their confidence.
Every year in each school, there will be a small group of students who has to repeat their first year due to failing grades.
To have a good understanding of concepts and get promoted at the end of this year, students should supplement their learning with Chemistry tuition in a more familiar classroom setting.
Maverick Puah is one of Singapore's top Chemistry tutors and has personally taught JC & IP Chemistry Tuition to hundreds of students since 2010.
Get a rock-solid foundation in H2 Chemistry with Maverick and prepare yourself well for Promo exams this year!
Testimonial from Leon Yeoh, AJC (now ASRJC):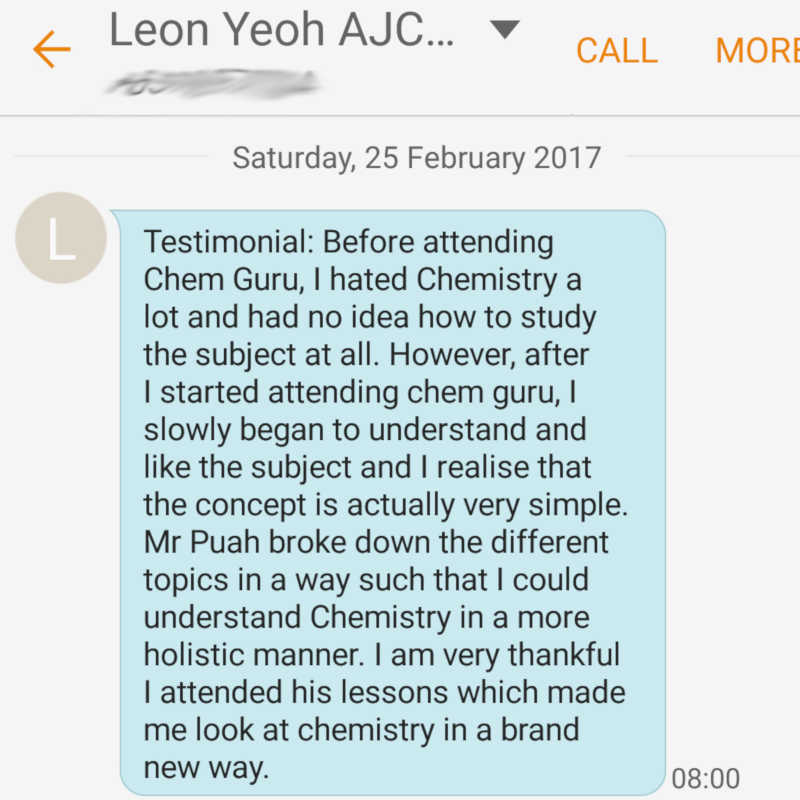 JC1 Class Schedule (2019)
1. Thu 6pm to 8pm (commencing 7 Feb 2019)
2. Fri 6pm to 8pm (commencing 8 Feb 2019)
3. Sat 12.30pm to 2.30pm (commencing 9 Feb 2019)
Please choose one of the above timeslots.
We also offer online classes for JC1 topics!
Learn H2 Chemistry anytime, anywhere at 50% of the cost of conventional class tuition.
Find out more information about our online chemistry tuition.
JC1 Topics (2019)
1. Mole Concept
2. Redox and Solution Stoichiometry
3. Atomic Structure
4. Chemical Bonding
5. Intermolecular Forces
6. Gaseous State
7. Energetics
8. Kinetics
9. Chemical Equilibria
10. Introduction to Organic Chemistry
11. Alkanes
12. Alkenes
13. Arenes
14. Halogenoalkanes
15. Alcohols

16. Carbonyl Compounds
17. Acid and Derivatives
Read more information about the changes in the new H2 Chemistry syllabus (Subject Code 9729) and what students can expect.
Fees
Fees are $400 for a four-week month and $500 for a five-week month.
There are no additional material or administration fees payable.
Why choose Chemistry Guru?
- Maverick Puah is one of the most popular Chemistry tutor and YouTube Educator in Singapore with top credentials and qualifications.
- Concise and crystal clear lessons personally conducted by Maverick Puah
- Stellar track record of 70 to 80% distinction since 2010
- Registered with MOE and walking distance from Bishan MRT station
- Free consultation after class or via Whatsapp
- Monthly fees with convenient modes of payment
Read our Frequently Asked Questions here.
Witness how Chemistry Guru makes Chemistry simpler for hundreds of students since 2010.
Enjoy 50% off trial lesson (usual fees $100) if you sign up before 31st Jan!
To claim this early bird discount, payment of $50 has to be made by PayNow via UEN: 5314 8951E upon registration.
Sign up for a trial lesson today!