JC1 / IP Year 5 Bishan Class Schedule, Topics and Fees
Chemistry Guru's JC1 / IP Year 5 classes provide a strong foundation to ace your Promo exams.
All lessons are conducted by Singapore's top Chemistry tutor Maverick Puah at Bishan Central.
*Due to suspension of classes in April, all lessons at Bishan will be converted to weekly LIVE webinars.
Maverick has been conducting online lessons via his YouTube Channel since 2014.
His channel has more than 4000 subscribers - proof that online learning can be equally effective.
Find out more about our LIVE webinars via Zoom.*
JC1 Class Schedule for 2020
1. Thu 6pm to 8pm
2. Thu 8.30pm to 10pm (LIVE webinar at $240/month only! Find out more info here.)
3. Sat 12.30pm to 2.30pm
Please choose one of the above timeslots.
We also offer online video lessons for JC1 topics!
Learn H2 Chemistry anytime, anywhere at 50% of the cost of conventional class tuition.
Find out more information about our online video lessons.
JC1 Topics for 2020
The following topics are covered by most JCs in a similar sequence so will be suitable for most students.
Feb to Jul - Core Ideas Foundation Topics
1. Mole Concept
2. Redox and Solution Stoichiometry
3. Atomic Structure
4. Chemical Bonding
5. Intermolecular Forces
6. Gaseous State
7. Energetics
8. Kinetics
9. Chemical Equilibria
Aug to Oct - Organic Chemistry Part 1
10. Introduction to Organic Chemistry
11. Alkanes
12. Alkenes
13. Arenes
14. Halogenoalkanes
Nov to mid Dec - Advanced JC2 Content
15. Ionic Equilibria
16. Buffer & Titration Curve
Fees
Fees are $400 for a four-week month and $500 for a five-week month.
Register now and enjoy a promotional locked-in rate of $360 for a four-week month and $450 for a five-week month!
Fees are payable on a monthly basis so parents do not have to fork out a huge sum of money for upfront payment.
There are no additional material or administration fees payable.
Testimonial from Leon Yeoh, AJC (now ASRJC):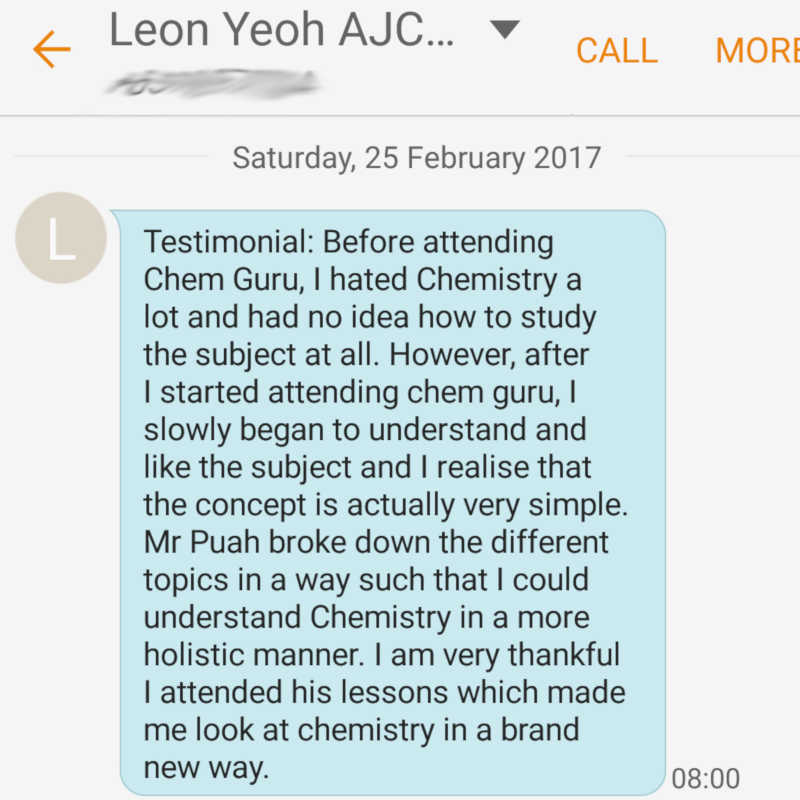 Here are more rave reviews on Google:
Witness how Chemistry Guru makes Chemistry simpler for hundreds of students since 2010.
Sign up for a trial lesson today for $50 only (half price promotion)!
More Info
Find out why Chemistry Guru is the best choice for A Level Chemistry Tuition.
View Maverick's full qualifications and credentials.
Take a look at the results and testimonials and discover why hundreds of students have attended JC1 Chemistry Tuition with us.
Check out the class timing, topics covered and fees for our JC1 Classes and JC2 Classes.
Save on precious travelling time! Online Tuition lessons are now available at 50% of the cost of conventional class tuition.
Read our Frequently Asked Questions here.
Contact us for registration and enquiry.