Organic Chemistry 55 Reactions Cheatsheet
Did you know there are altogether 55 reactions to remember in Organic Chemistry?
Sometimes you might wish for all these reactions to be consolidated in a single page so you do not have to flip through stacks of notes to find them.
Well this cheatsheet might come in handy: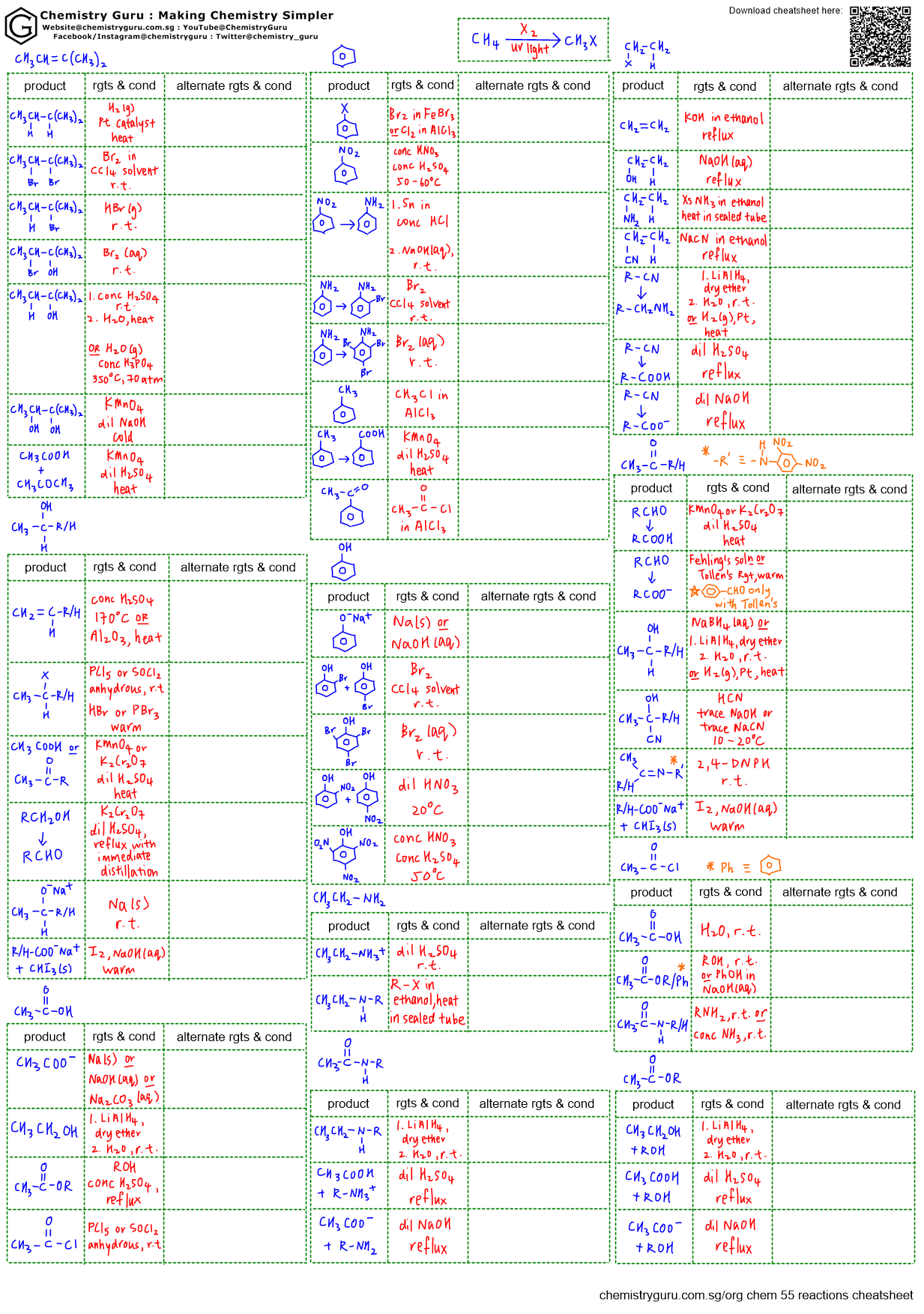 There's even space to write down an alternative reagents and conditions if your school is using a different one. Nice.
What's nicer is you can download and print it for free.
Download this ultimate cheatsheet here (on Google Drive in pdf format):
Organic Chemistry 55 Reactions Cheatsheet
Do share this with your friends if you find it useful!
Check out and download my free organic chemistry concept maps too.
Good luck in memorising these Organic Chemistry reactions!
A Level H2 Chemistry Video Lessons
I have a huge collection of short video lessons that targets important H2 Chemistry concepts and common questions.
Join my 10,000+ subscribers on my YouTube Channel for new video lessons every week!
Follow me on Instagram for H2 Chemistry videos and (not so funny) memes!
You can also view other A Level H2 Chemistry videos here at my website.
Need an experienced tutor to make Chemistry simpler for you?
My weekly classes at Bishan, Singapore are ideal for students who prefer a more structured program.
Build a strong foundation and ace your exams!
Sign up now for a trial lesson at $50 only (half price promotion)!
Register now and enjoy a promotional locked-in rate of $360 for a four-week month and $450 for a five-week month!
Check out the class timing and topics covered for our popular JC1 Classes and JC2 Classes at Bishan, Singapore.
Need a structured programme with the convenience of online learning? Our weekly LIVE webinars are perfect for you!
Learn anytime, anywhere, at your own pace! On-demand lessons are now available at half the cost of conventional class tuition.