Strong Oxidation of Alkene - Worked Example
In this video we want to discuss an interesting question that I have received from some of my students.
Let's take a look at this question first: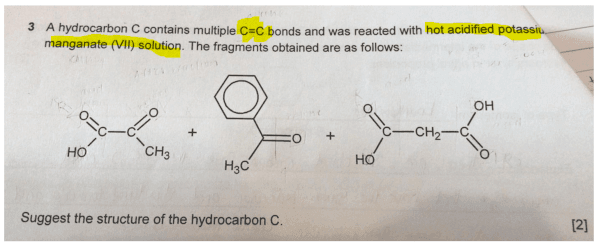 We know the reaction is strong oxidation of alkenes since the question already mentioned the presence of multiple C=C bonds and reagents and conditions given is hot acidified KMnO4.
So what we need to do is to deduce the alkene fragments that will give these products on oxidation, and piece them together to determine the original hydrocarbon C.
Let's do a recap on oxidative cleavage of alkenes.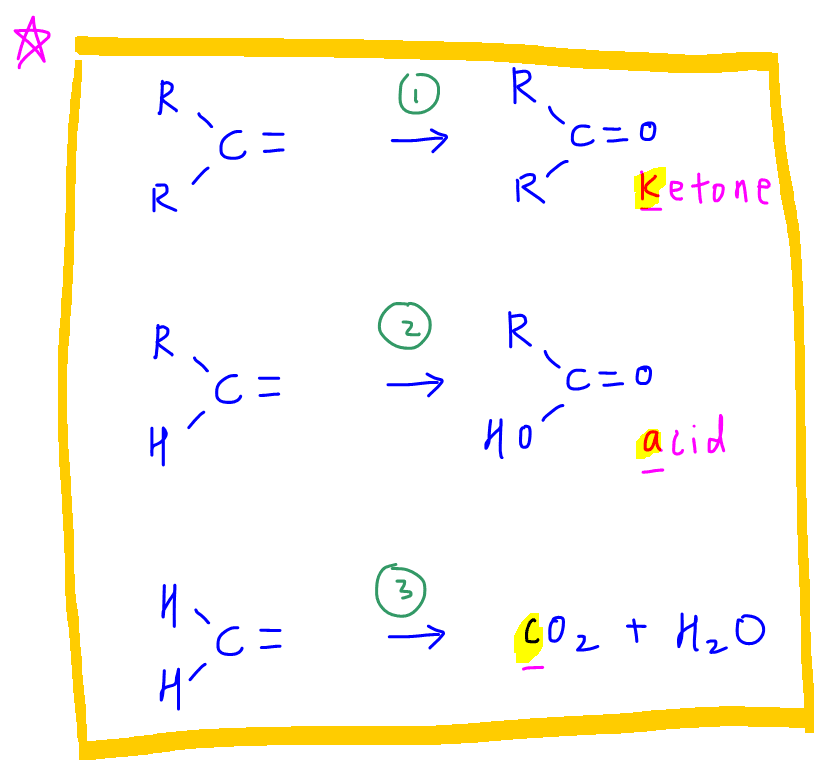 From this summary we can determine the 3 fragments that are part of hydrocarbon C.
Fragment 2 must be the terminal fragment as it contains only 1 alkene, while fragments 1 and 3 must be bridging fragments (in the middle of the carbon chain) as they contain 2 alkenes each.
So now we have 2 possible scenarios, but we run into the problem of a missing fragment.
The missing fragment is accounted for by a CH2= group. As the CH2= group is oxidised to CO2 and H2O, it will not be detected as an organic product.
Sometimes questions will leave this observation out to make things a little more challenging.
We have now accounted for the missing fragment and there are 2 possible outcomes.
So there will be a total of 2 possible answers, right?
Unfortunately it gets a little bit more complicated than that, as fragment 1 is not symmetrical.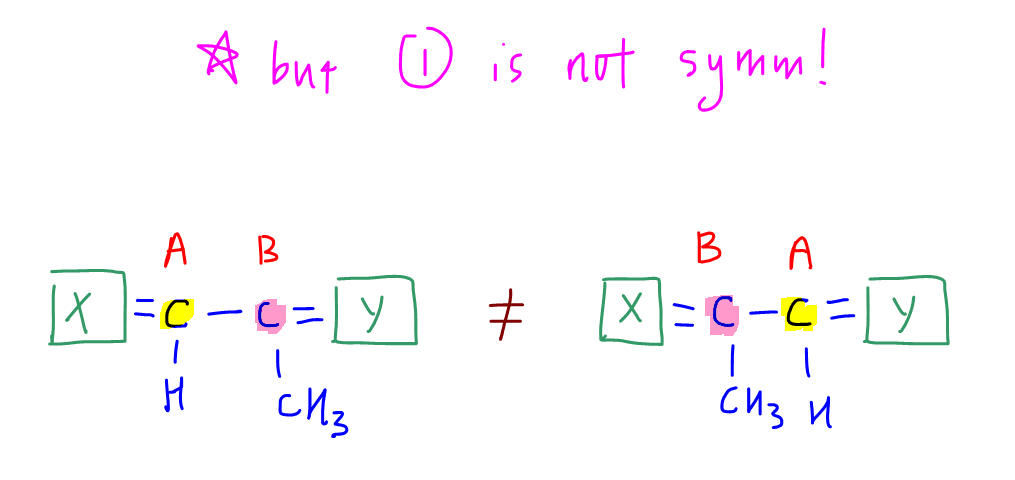 This means for each arrangement there will be 2 possible permutations depending on how we flip fragment 1, either AB or BA arrangement.
Finally we have all the concepts accounted for and the 4 possible answers are as shown.
We can draw out these 4 possible answers for hydrocarbon C, but to answer this question we just need to draw the structure of any one of them.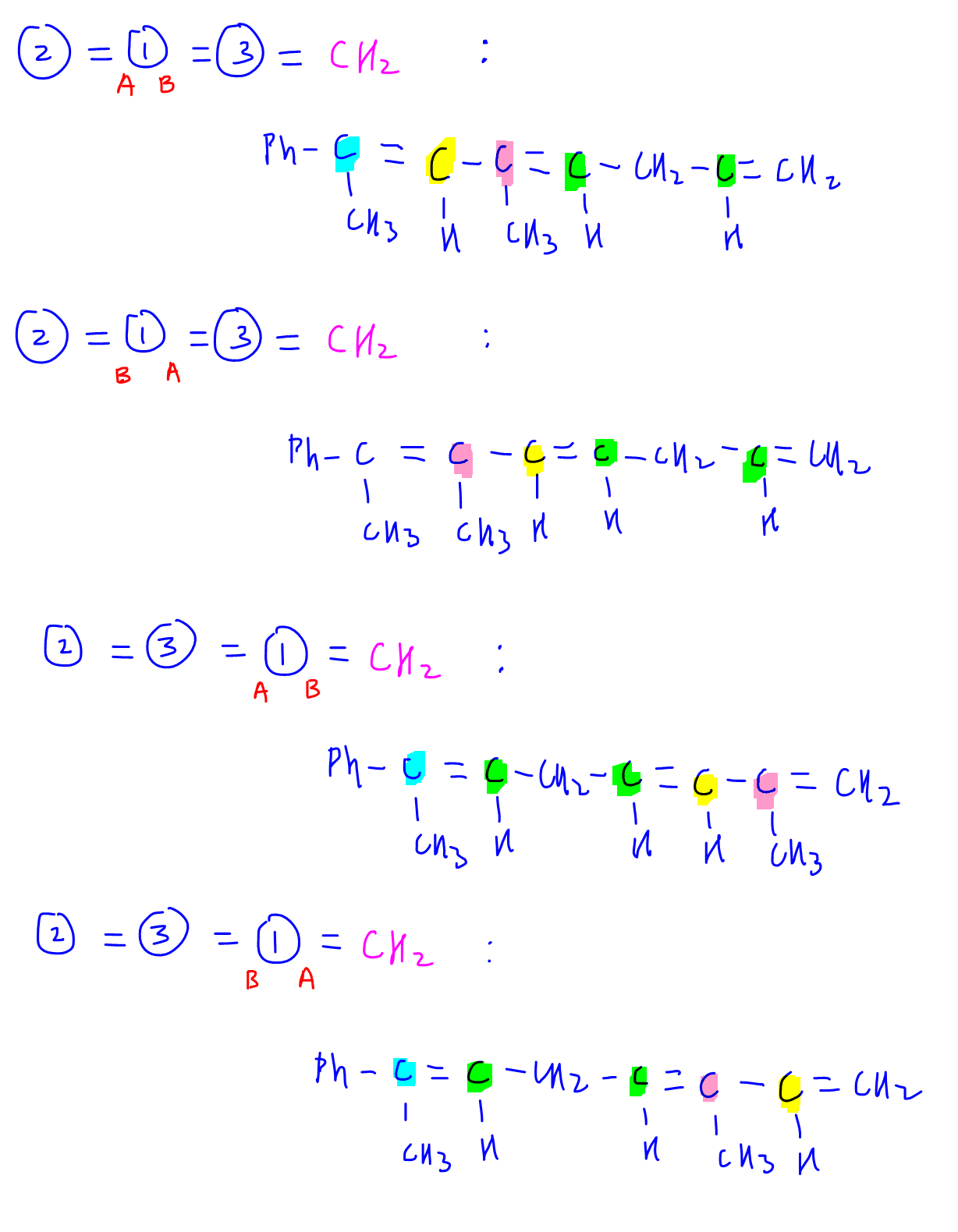 For the detailed step-by-step discussion on how to determine hydrocarbon C, check out this video!
Topic: Alkenes, Organic Chemistry, A Level Chemistry, Singapore
Back to other previous Organic Chemistry Video Lessons.
Found this A Level Chemistry video useful?
Please LIKE this video and SHARE it with your friends!
Join my 1800+ subscribers on my YouTube Channel for new A Level Chemistry video lessons every week.
Check out other A Level Chemistry Video Lessons here!
Need an experienced tutor to make Chemistry simpler for you?
Do consider signing up for my A Level H2 Chemistry Tuition classes at Bishan or online chemistry classes!