Structural Elucidation 2
Let's take a look at this question for structure elucidation.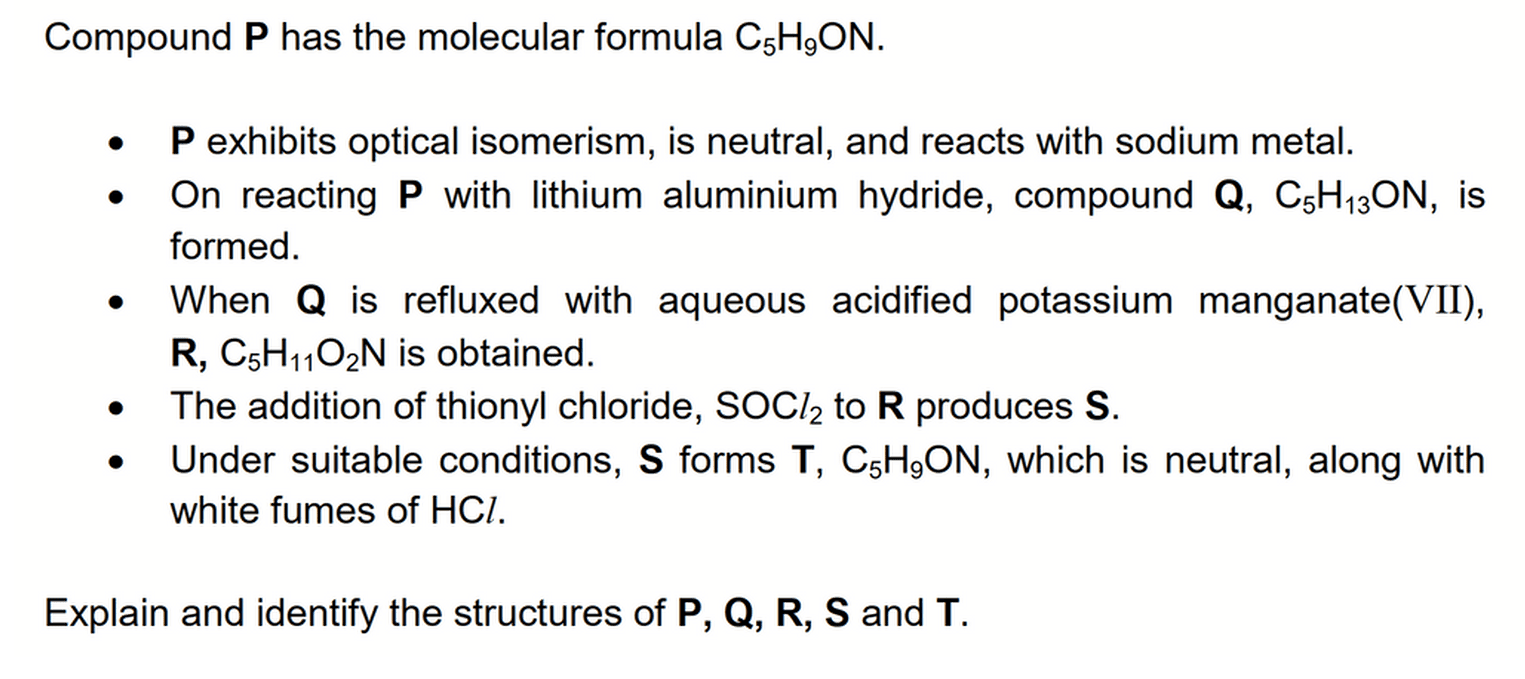 There are 5 observations to consider so let's run this through part by part.
Observation 1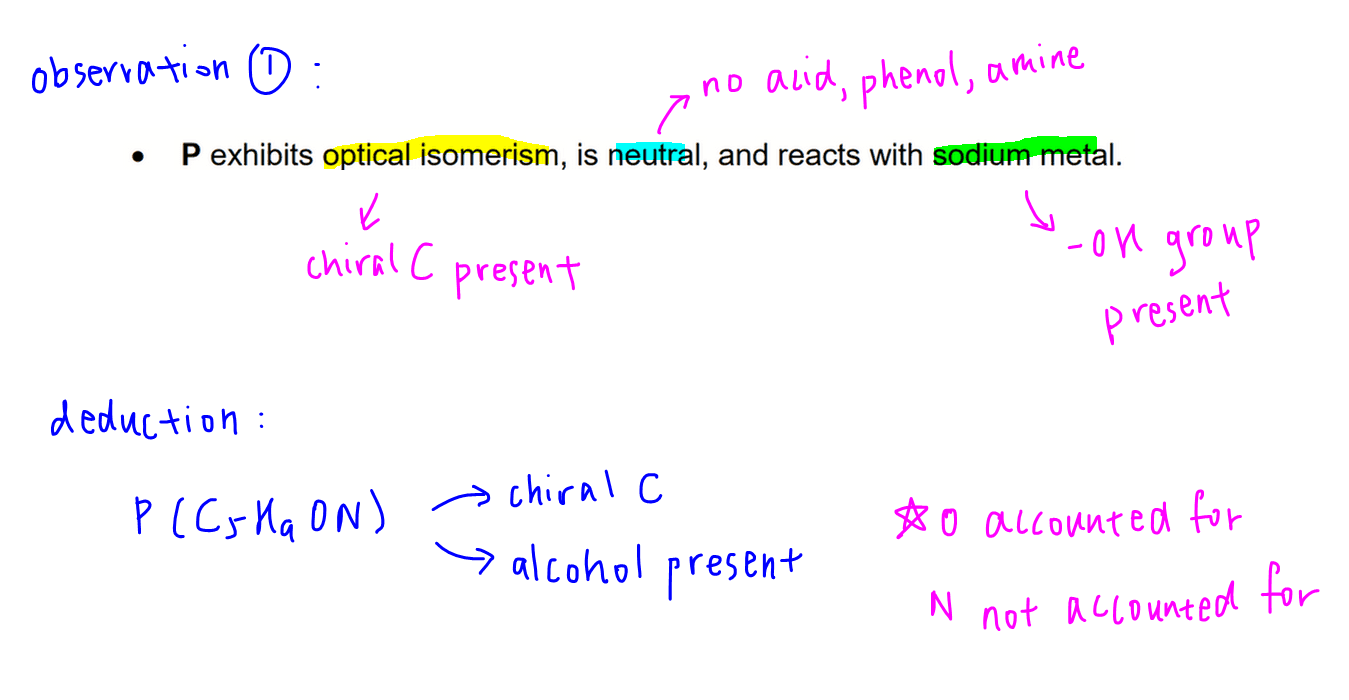 P exhibits optical isomerism, hence a chiral carbon is present in P.
P is neutral so cannot contain acidic functional groups like acid and phenol; and basic functional groups like amine.
P undergoes acid base reaction with sodium so an alcohol functional group is present in P.
Observation 2
P (C5H9ON) undergoes reduction with LiAlH4 to form Q (C5H13ON).
By comparing molecular formula, nitrile functional group is present in P, and primary amine is present in Q.
Cummulative Deduction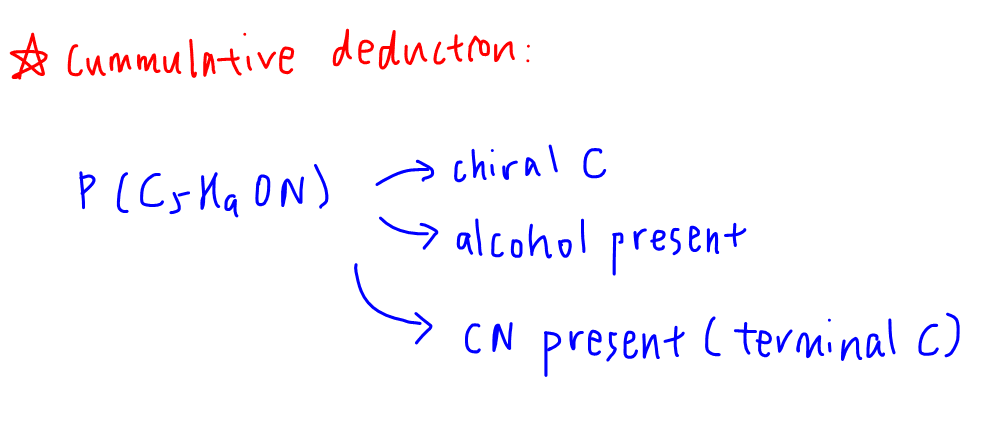 So currently we have gathered the following information about P:
- contains chiral C
- has -OH group
- has -CN group on a terminal carbon
Observation 3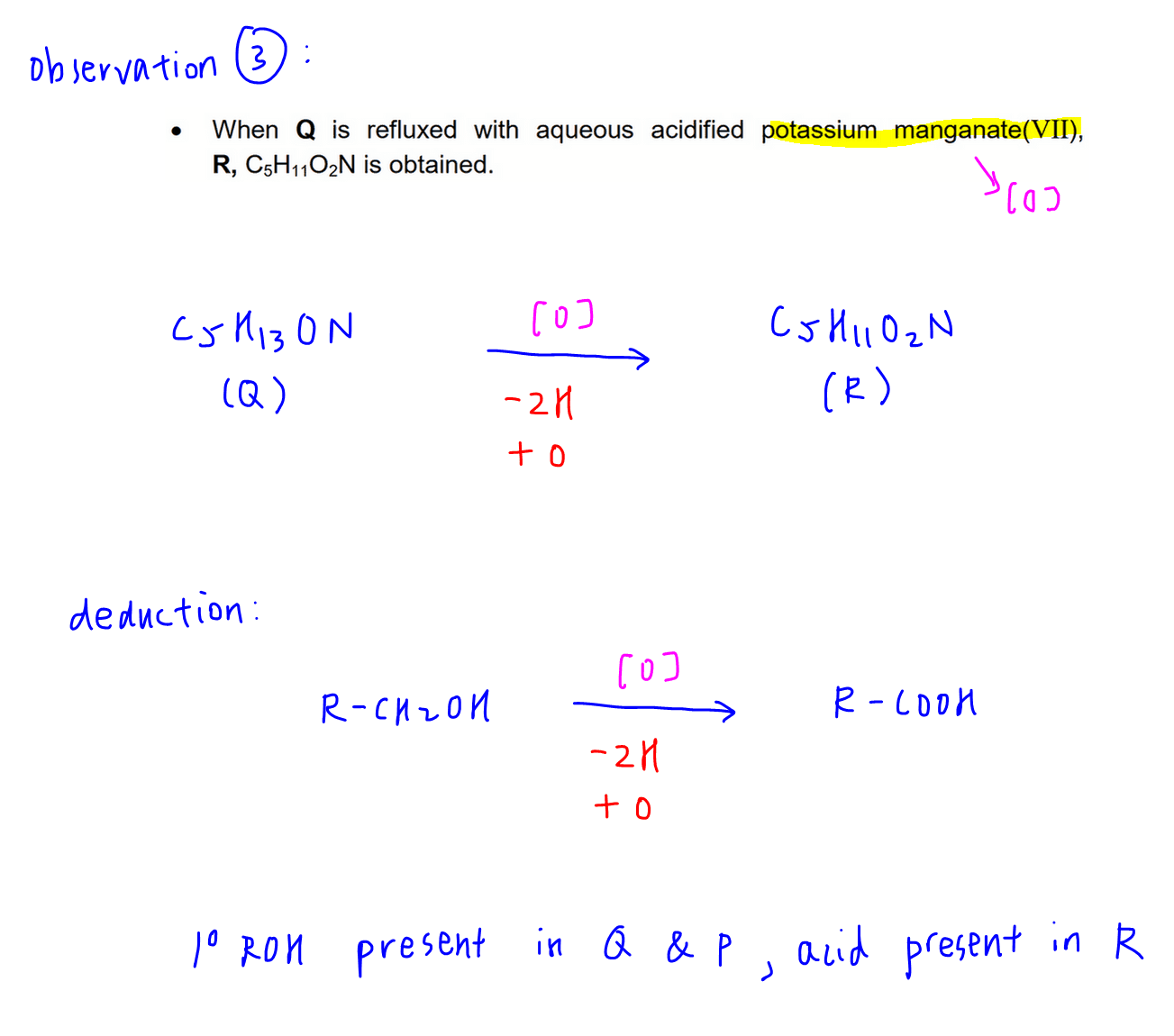 Q undergoes oxidation with KMnO4 to form R (C5H11O2N)
By comparing molecular formula, we can deduce a primary alcohol is present in Q and P, and acid group is present in R.
Cummulative Deduction
So now here are the deductions about P:
- contains chiral C
- has primary -OH group on terminal carbon
- has -CN group on a terminal carbon
- has 5 carbons
Since we have quite a few information about P, we can try to figure out the identify of P.
Remember if we can identify a compound as early as possible, it's much easier to figure out the rest of the observations.
Deduce Chain Isomers
For 5 carbon we have 3 possible chain isomers: pentane, 2-methylbutane, 2,2-dimethylpropane
Add Functional Groups and Identify Chiral Carbon
Notice when primary alcohol and nitrile groups are added to each chain isomer, only 2-methylbutane chain isomer will give us a chiral carbon.
Therefore we have 2 possible structures for P identified.
Once P is identified, we can figure out Q and R: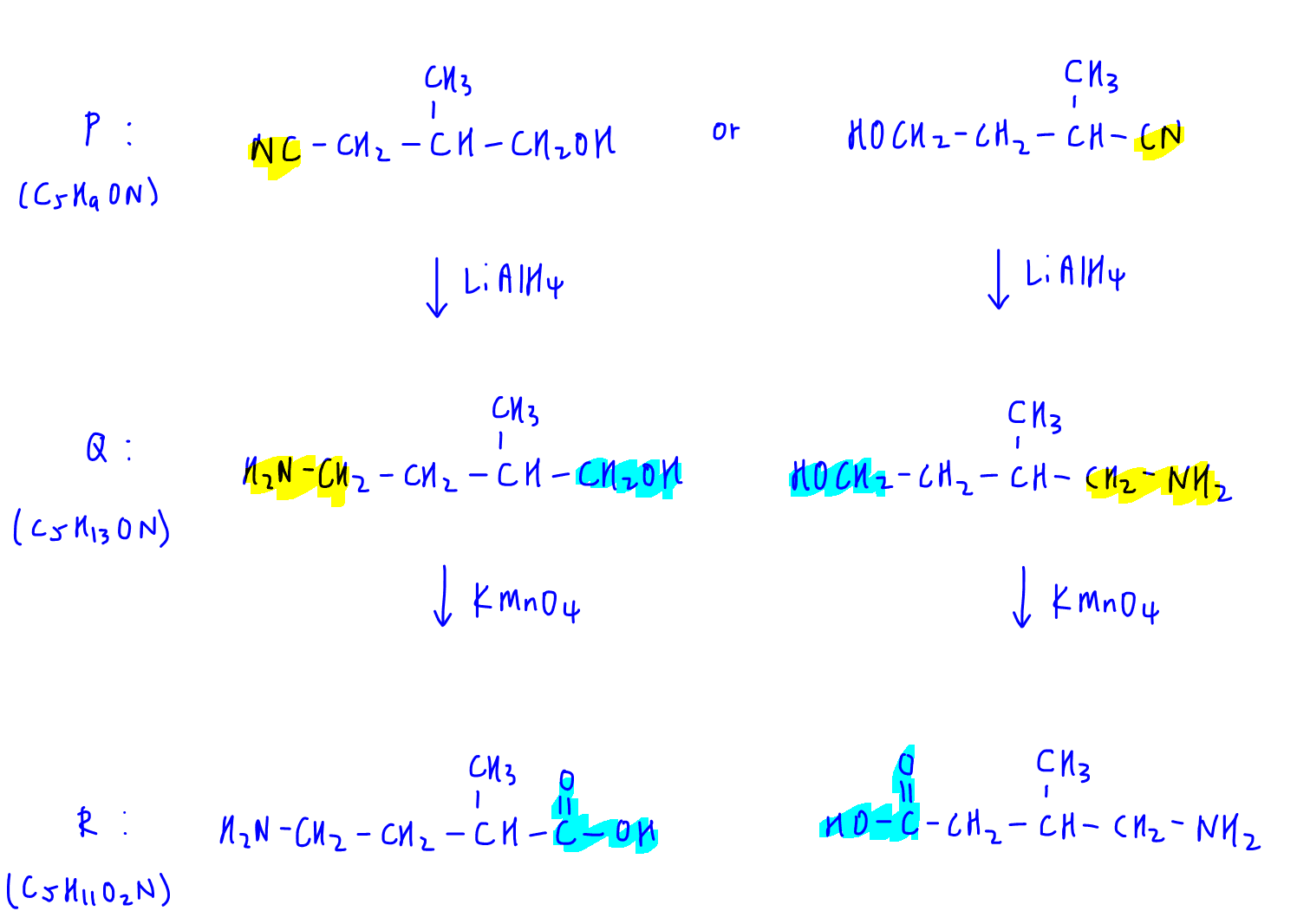 Observation 4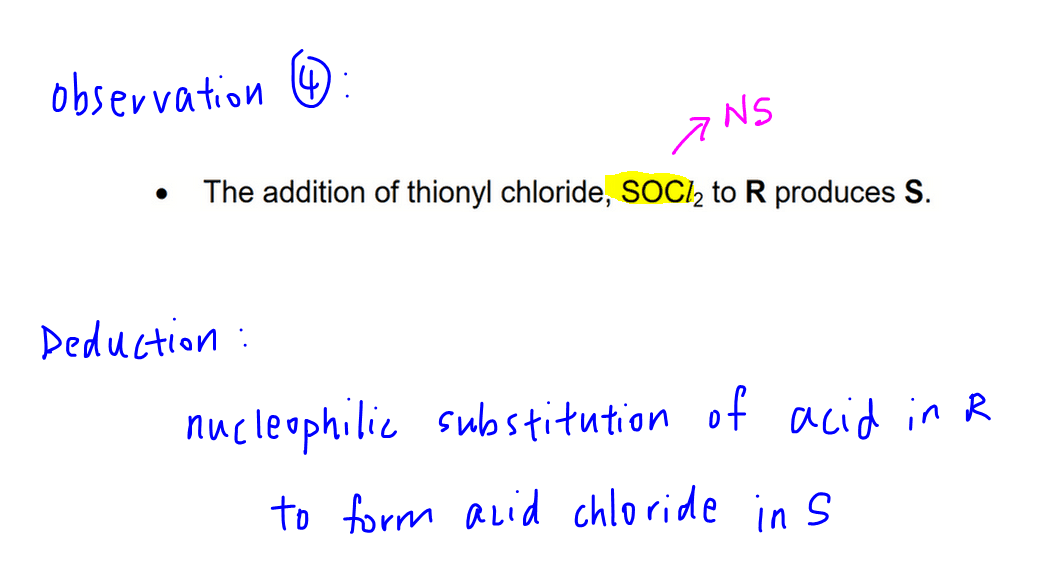 Moving on, R undergoes nucleophilic substitution with SOCl2 to form acid chloride S.
So we can identify S since R is already known.
Observation 5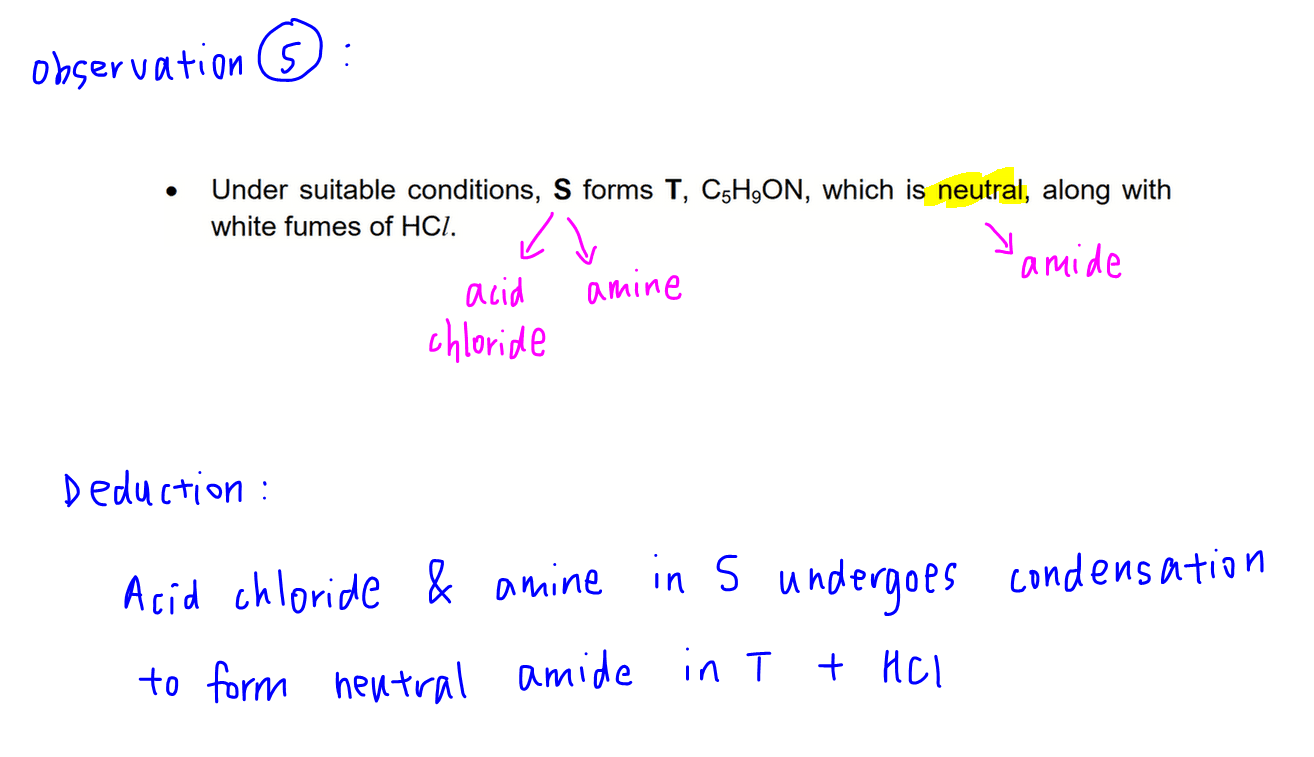 There is an acid chloride and amine group in S, which can react with each other via condensation to form a neutral cyclic amide in T.
So we can identify both cyclic amides T.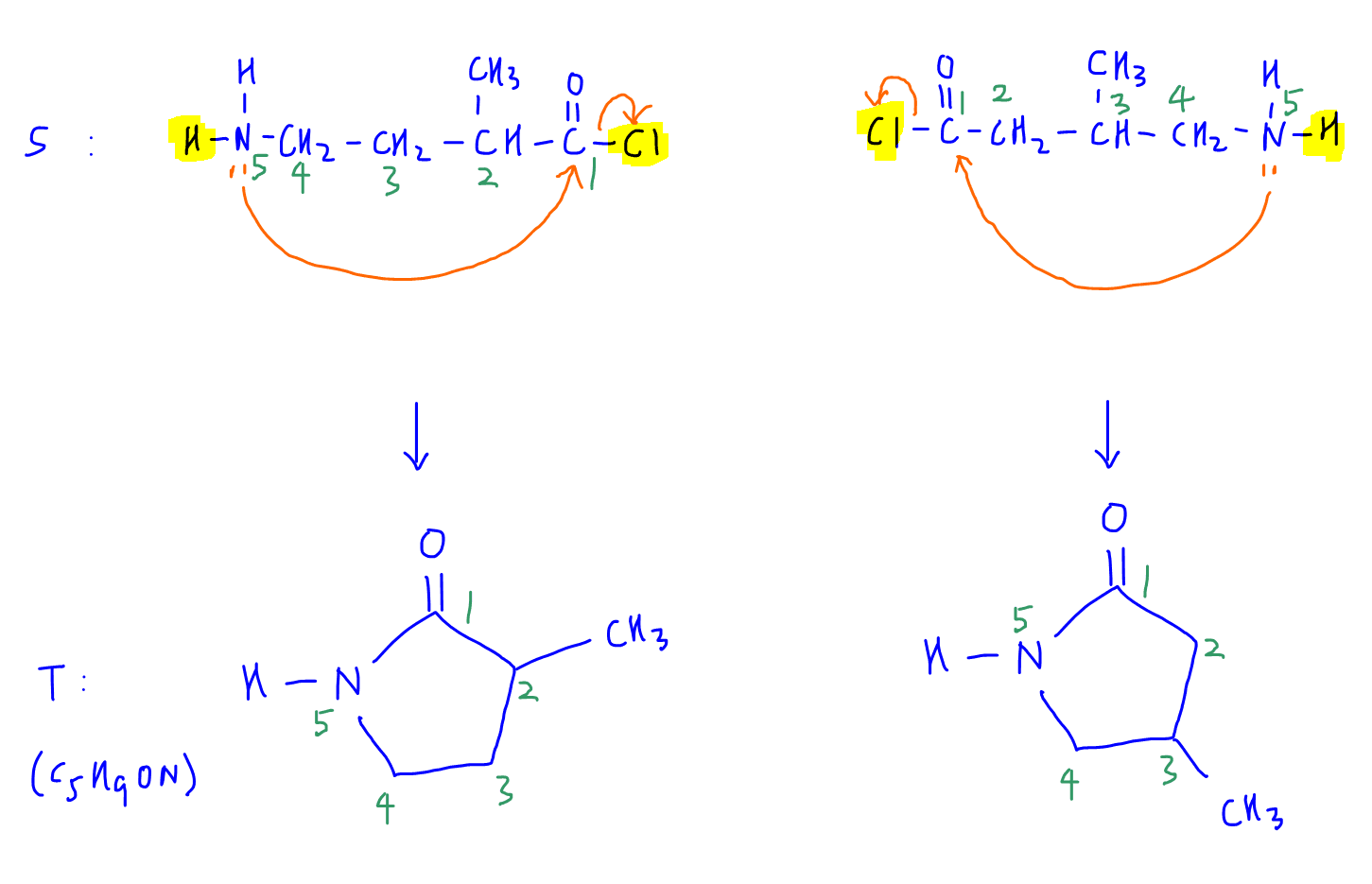 For the in depth discussion for this exercise, do check this video out!
Topic: Organic Chemistry, A Level Chemistry, Singapore
Back to other previous Organic Chemistry Video Lessons.
Found this A Level Chemistry video useful?
Please LIKE this video and SHARE it with your friends!
Join my 3000+ subscribers on my YouTube Channel for new A Level Chemistry video lessons every week.
Check out other A Level Chemistry Video Lessons here!
Need an experienced tutor to make Chemistry simpler for you?
Do consider signing up for my JC Chemistry Tuition classes at Bishan or online tuition classes!